People all over the planet are finally realizing that there's a better way to get around. Moving away from gasoline-powered cars is quickly becoming the norm. Even automobile companies are jumping on the electric train and presenting their own versions of the EV. Despite this, bikes still remain largely unaffected by this shift. Similar to hybrids, with the exception of pedal-assist bikes, most e-bikes still use some sort of electricity. However, with the popularity of gadgets like smartphones, tablets, and laptops, we have batteries that can power all of these things for several days before needing a charge. Why not use the same batteries in e-bikes?
Retro electric bikes have now come into the limelight. Cycle manufacturers have also taken note of this fad and are introducing styles especially for retro bikes for the modern day riders. It's a whole new concept to create such an old fashioned bike with a battery and motor to it.
Really interested in getting a Retro electric Bike? See my suggestions before you make the final decision!
1.) Cooler King 750
The Cooler King electric bike is a stunning ride and the ultimate companion to beaches, blues concerts, and quaint cottages. Retro style and modern technology: This is an electrically assisted bicycle with agility and maneuverability that makes it fun for anyone to ride. The bike includes a Bafang Motor 760w with 50 km/h top speed and a Samsung battery 48v 17.5AH.
Its a great way to explore cities or the countryside!
| | |
| --- | --- |
| Motor: | 760w Bafang Motor |
| Battery: | 48v 17.5AH Samsung |
| Speed: | 50 km/h top |
| Charging time: | 3.5 Hours |
| Gears: | 7 speed Shimano |
| Lights: | LED dual function front light |
| Tires: | 26 x 4 inch fat tires |
| Color: | Matt black with black leather accents. |
Easy to maneuver , fun to ride, and loaded with style, this electric bike can take you places.The Cooler King electric bike gives you the power to go where you want in style.
Get the best price here: Cooler King 750
---
2.) Munrojoy, 48V 500W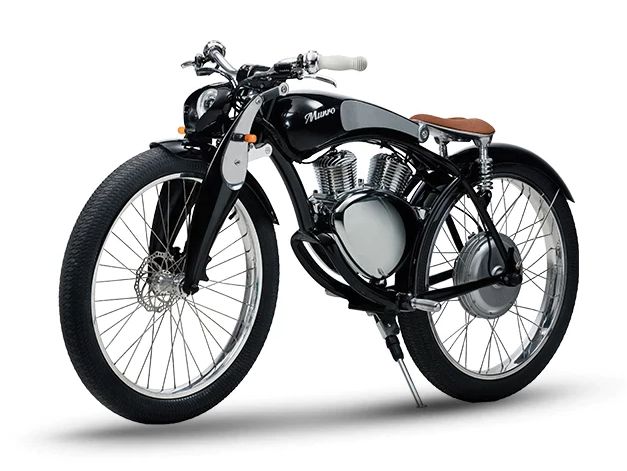 The Munrojoy is an electric bike that is safe, easy to use and built to last. With its advanced motor and state of the art Samsung 18650 Lithium Battery, the Munrojoy has a range of over 30 miles per charge at speeds of 31 mph.
Inspired by the design of 1930's bicycles Munrojoy brings us a contemporary electric bike designed to be stylish with simple functionality.
| | |
| --- | --- |
| Motor power: | 500W |
| Maximum load: | 220lbs |
| Battery Type: | Samsung 18650 Lithium Battery |
| Voltage: | 48V |
| Charging time: | 6 Hours |
| Αutonomy: | 30 miles |
| Extras: | GPS positioning system, USB charging port |
Available in four colors, black, white, green and red. Get rid of car, bus and train for your daily transportation needs. Take control over your body health and save money with this beautiful retro ebike!
Get the best price here: Munrojoy, 48V 500W
---
3.) Skyzzie MX03 500W
Skyzzie MX03 electric bike with its aluminum frame and leather accents resembles a European-style bicycle. The included smart battery (lithium-ion) provides up to 18.6 miles (30 km) of riding distance per charge (fully charged in 3-4 hours), giving you plenty of time to explore your surroundings.
Whether you just want to get from point A to point B, or whether you're planning an adventure, this bike is perfect for you.
| | |
| --- | --- |
| Material type: | Stainless-steel |
| Wattage: | 500 watts |
| Wheels: | 24″ brown wheels |
| Max speed: | 18,5 mph |
| Αutonomy: | 28 miles |
Skyzzie is specifically designed to offer an economical, yet, easy to ride means of transportation. With a fold-able design, low center of gravity and ergonomic handlebar configuration can be easily carried on public transportation or placed into the trunk of most cars.
Get the best price here: Skyzzie MX03 500W
---
4.) Civibikes 750W Bafang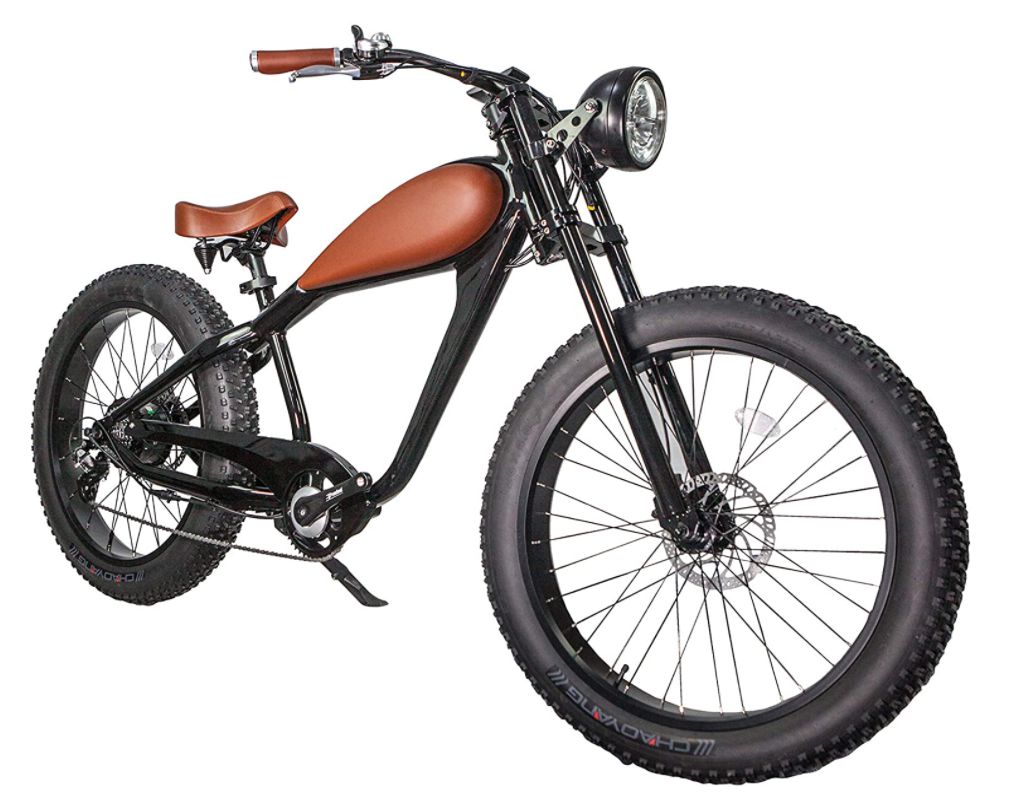 The Civibike 750W is a new retro-style Electric Bike with silent brushless direct drive hub motor, giving you powerful assistance on hills and inclines. Easy to ride, and great for the whole family. The design features an updated retro style with a comfortable lightweight frame and large comfortable seat.
The rechargeable battery can be fully charged in 4-6 hours. Designed for any terrain or weather conditions, is the perfect electric bicycle for commuting, touring and leisure riding.
| | |
| --- | --- |
| Charging Time: | 4-6 hrs |
| Max Speed: | 28 MPH |
| Max Range: | 35 Miles |
| Transmission: | Shimano Altus 7 Speed |
| Max Capacity: | 350 lbs |
| Weight: | 59 lbs |
It packs an impressive 750 Watts power motor via a custom Lithium Ion battery pack hidden in the downtube, allowing you to reach speeds of up to 28 miles per hour. Whether you decide to use the bike in electric or pedal-assist mode, you will be treated to a comfortable ride on the wide.
Get the best price here: Civibikes 750W Bafang
---
5.) MZZK 28″ City Bike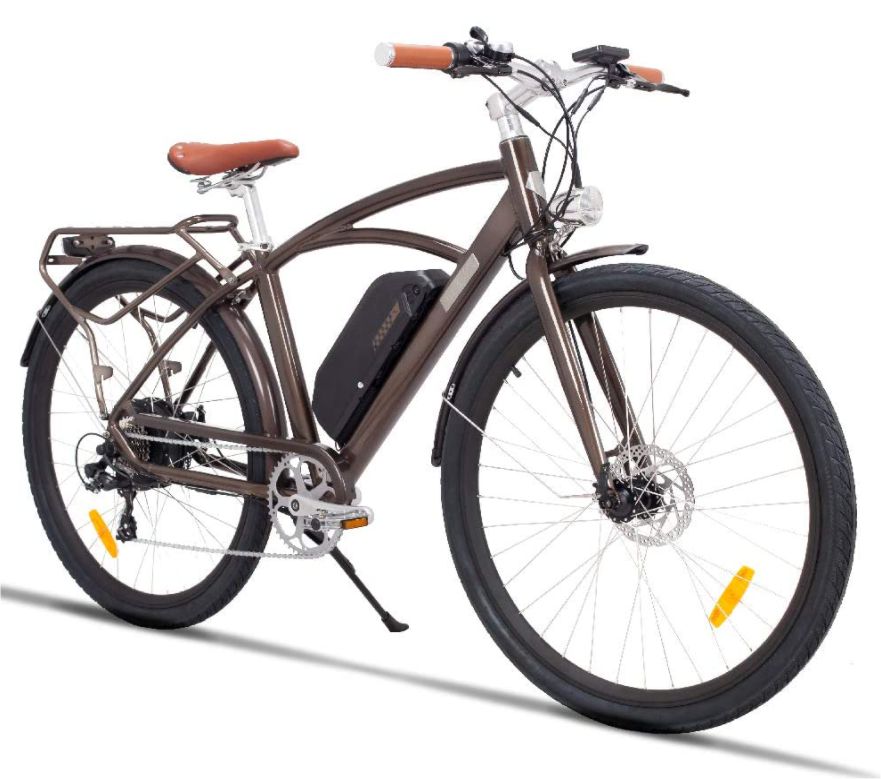 The MZZK city bike perfectly combines efficiency, performance, and style. Designed with an aluminum frame and a 750 watt motor, this is one of the most powerful electric bike in its class. The integrated LED headlight enables you to bike at night safely, while the Shimano STePS system delivers consistent performance.
Equipped with a 48V 12.5AH lithium battery that rides smoothly and silently on seven speeds.
| | |
| --- | --- |
| Material: | Aluminum 6061 |
| Wheel Diameter: | 28 inch |
| Speeds: | 7-Speed Shimano 14-28T |
| Motor power: | 750W extending to 900W |
| Battery: | 48V 12.5AH lithium (removable) |
| Charging Time: | Fully charged within 4-6 hours |
| Display: | KT-LCD5, 5-steps |
| Max Capacity: | 265lbs/120kg |
| Weight: | 27kg (incl. battery 3kg) |
This eye-catching bike was designed to be both functional and fun. Whether you are riding through the city or just cruising around your neighborhood, the MZZK is perfect for getting around!
Get the best price here: MZZK 28″ City Bike
---
6.) Swagtron EB-11
Open your door to the world of cruising with the Swagtron EB-11 Retro Cruise. This stylish electric bike is equipped with the latest technology and top of the line components.
It provides power to go up to 15 miles per hour with a range up to 28 miles and can be folded for easy storage.
Materials:
Steel (frame, front fork, spokes, rear brake),
T6061 aluminum alloy (handlebar/rims/some brake hardware)
Wheels/Tires:
26" x 2.125"
Motor:
250W
Mile Range:
28 mi (45 km)
Maximum Speed:
15.3 mph (24.7 km/h)
Gearing:
Shimano SIS 7-Speed Indexed Gear Shifting
Charging time:
4~5 hours
Amped to the max, this Shimano 7-speed retro electric bike is a rip-snortin' ride for the kid inside every rider. It's the perfect vehicle to cruise around campus, take on your daily lunchtime errands or ride with the kids. The EB-11 is the perfect way to get you there with ease.
Get the best price here: Swagtron EB-11
---
7.) AISHFP 24Inch Electric Bike
AISHFP is a retro styled electric bike with an aluminum frame, 7-speed gears and a 400W motor powered by a 36V lithium battery.
The net weight is 44 pounds, easy to handle for adults and teens.
| | |
| --- | --- |
| Frame Material: | High-Strength aluminum alloy |
| Net weight: | About 44 pounds (20 kg) |
| Maximum speed: | 15.5 mph (25 km/h) |
| Gearing: | 7-Speed |
| Battery: | 36V 10/10.4AH |
| Load capacity: | 353 pounds (160 kg) |
| Mile Range: | 21.7m-31 (35-50 km) |
The design of this bicycle is inspired by nostalgia elements with contemporary elements of art deco. This durable and elegant ride delivers exceptional comfort, convenience and safety.
Get the best price here: AISHFP 24Inch Electric Bike
---
8.) ECOTRIC 1000W
Ecotric is a lightweight, high-performance electric bike in an eye-catching design, and features a twist grip throttle control to let you go farther without breaking a sweat. For longer rides, you can adjust the seat to your height and get up to 25 miles (40.2 km). With the assistance of the motor, there's no need to worry about pedaling against the wind, and plus the 7-Speeds Shimano system, hill climbing has never been easier.
| | |
| --- | --- |
| Frame Material: | Aluminum |
| Gearing: | 7-Speed |
| Battery: | 48V/13 AH Lithium (Removable) |
| Wheel size: | 26 Inches |
| Motor: | 1000W |
Thanks to the compact motor and battery that easily detach from the frame, you can bring it in the building or store it in your apartment. This electric bike is priced to be accessible to as many riders as possible while still offering top-quality components. The sleek design is intended to ensure comfort for all users without compromising style or performance.
Get the best price here: ECOTRIC 1000W
---