As an old house owner, I tend to appreciate the build quality and attentiveness of the design. It brings back admiring memories of my grandfather's kitchen and reminds me of simpler, slower times.
When you think of the kitchen from the 50s, 60s or 70s, what do you think of? The television in the living room, perhaps a nice bakelite rotary style phone or some other classic touch are definitely on tap. But what about coffee? Coffee is one of those things that brings entire families together. At the breakfast table, during coffee breaks at work, many lifelong bonds are formed by a simple cup of coffee. Take a step back into the kitchen of yesteryear with retro style coffee makers!
You have to admit that retro can be pretty cool, especially in the kitchen.
If you're tired of the modern look of kitchen appliances with their slick, digital interfaces, then don't fret. There are a wealth of retro style coffee makers to take you back to simpler times.
If you're looking for a great gift for you or to a family member or a friend who enjoys good coffee, these coffee makers won't let you down. These retro-style coffee makers are a great addition to any kitchen!
Here is my 6 favorites retro coffee makers!
1.) Smeg Filter Coffee Machine, Pastel Green
The Pastel Green coffee machine by Smeg is a 50s style drip filter that lends a retro touch to any kitchen. Choose your brew size between 1-10 cups for just the right quantity you are looking for. The reusable coffee filter is easy to clean, and a warming plate keeps your brew hot for up to 60 minutes. A warming plate keeps the carafe hot for more than an hour to enjoy your coffee at any time.
• 10-cup capacity glass carafe, with handle and lid
• Digital LED display and clock
• Programmable Automatic Start
• Aroma intensity function: Light or Intense
Smeg's Elegance Drip Filter Coffee Machine makes an excellent gift for the coffee lover in your life. Crafted from durable metallic materials in a retro coffee maker design, this stylish coffee machine will be enjoyed every morning. The ergonomic handle and drip-proof spout provide a comfortable grip for serving. Take a walk down memory lane with the Pastel Green filter coffee machine.
Get the best price here: Smeg Filter Coffee Machine, Pastel Green
---
2.) Nostalgia Electrics, Retro Red
Coffee lovers rejoice with the delicious taste of convenience with this coffee maker. Its compact design and space saving capabilities allow you to brew up to 12 cups of coffee right on your countertop, in your office or dorm room and more. The backlit LED display makes it easy to read at-a-glance, and the 2-hour automatic shutoff means this machine will add welcome convenience to your kitchen.
• 24-hour programmable clock and delay timer
• Brews up to 12-cups of coffee
• The two-hour automatic shut-off is built in for safety incase you forgot to turn your coffee pot off
The Nostalgia Electrics retro series filter coffee maker will bring the look and feel of a traditional coffeemaker or percolator into your home.
Get the best price here: Nostalgia Electrics, Retro Red
---
3.) Technivorm Moccamaster, Yellow Pepper
The Moccamaster KBG produces an exceptional cup of Coffee from a brilliantly simple, manual brewing system. The first thing you notice is that the cone nozzle has a unique spray-head. This spray-head evenly distributes water over all the coffee grounds, both in large or small batches. Your coffee will never come out under extracted or over extracted.
This filter coffee maker will never burn your coffee. The KBG is the world's first coffeemaker with a built-in thermostat to control the temperature of the brew water. When the water reaches 200 °F, it waits for your coffee grinds to heat up, then uses a separate element to maintain an even 190° F for optimal brewing.
• Material
Aluminum, Stainless Steel, Glass, Copper, Plastics
• Capacity
10 Cups
• Brew-basket Style
Auto Drip-Stop
• Turns off after 100 minutes
Delivers a full 40oz cup of coffee in less than six minutes. It's perfect for home if you like to wake up to freshly brewed coffee, or if you like to entertain guests with a freshly brewed pot of coffee.
Get the best price here: Technivorm Moccamaster, Yellow Pepper
---
4.) Russell Hobbs, Red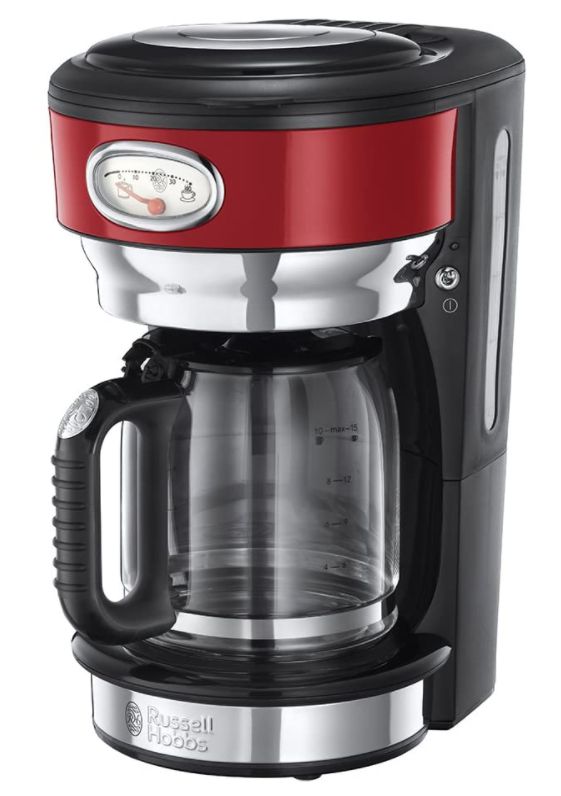 Retro styling joins modern functionality for a premium coffee experience. This 8-Cup Coffeemaker offers practical features like a brewing progress gauge that indicates both the time until brewing is complete and how long brewed coffee has been on the warming plate.
• Removable, Washable Grounds Filter
• Pause & Pour Feature
• Advanced Showerhead Technology
• Voltage: 120V, Wattage: 1000W
It features an advanced showerhead design that ensures proper saturation of coffee grounds for full flavor extraction, and a built-in warming plate that maintains the optimal temperature for serving quality brewed coffee. Add your favorite blend to the glass carafe, set it on the warmer plate, and brew your first cup as your first pot of coffee is being made. It's a great way to start each day.
Get the best price here: Russell Hobbs, Red
---
5.) Smeg Espresso Machine, Pastel Blue
The Smeg coffee machine is a true design classic that combines minimalist Italian design with an elegant mesh cup holder. The design has a matt finish and comes in 50s Style colours. Thanks to its efficient working cycle, it delivers a perfect shot of espresso in just under one minute.
It is a fully functioning product with a 15 bar pump and 1 litre water reservoir, ensuring that your drinks are brewed to perfection every time.
| | |
| --- | --- |
| Body Material: | Stainless Steel/Plastic |
| Adjustable Coffee Temperature: | low/medium/high |
| Adjustable water hardness: | light/medium/hard |
| Heating System: | Thermoblock |
| Stand-by setting: | 9 min/30 min/3 hrs |
If you are busy and a coffee lover something hot to drink is the quickest way to revive yourself and be ready for whatever challenge arises next! With 1350-watt, this fully automatic machine will quickly prepare your favorite espresso or cappuccino.
Get the best price here: Smeg Espresso Machine, Pastel Blue
---
6.) Bialetti Moka Express
Coffee is at the heart of Italian culture. The Bialetti Moka Express still brings coffee to the heart of the home, kitchen and table. Still found in nine out of ten Italian households, it's a symbol of hospitality and familiarity. And still made in Italy.
Made from food grade aluminum alloy. Works with induction, Gas and Elec. Stoves.
The Bialetti story begins in Italy in 1933, when the Italian engineer Alfonso Bialetti decided to sell one of his machine tool inventions in order to finance an idea that had been knocking around inside his head for years: to produce the perfect stove-top espresso maker.
Alfonso's Moka Express was an immediate success. Its form inspired designers from around the world. It is still a design icon almost eighty years later and its commercial success has made it part of everyday Italian life.
Get the best price here: Bialetti Moka Express
---