As a motorcycle rider, one of the most important pieces of gear you must wear is your helmet. It helps protect your head and brain in case of an accident. It is important if you wish to lead a safer ride.
There has been a new trend in the motorcycle helmet industry – retro motorcycle helmets. Retro looks to the past for design inspiration and brings it to the modern helmet world. Guys who have a passion for vintage things and bikes have a special touch with vintage motorcycle helmets. These are often collectibles and even if they are not, these helmets hold a fun value. I'm pretty sure anyone has a thing for old-school stuff. Back in the day, helmets looked very different from what they do now.
When you're looking for a cool retro motorcycle helmet, these are some of the 14 best classic motorcycle helmets available. They look just like the helmets worn back in the 60s, 70s and 80s. Get yourself a classic helmet that will turn heads when you ride past wearing one.
1.) GDM REBEL
Retro motorbike helmets are now introduced as a perfect accessory for men's fashion. These aren't just helmets. They are works of art and the latest craze among biker boys (and girls).
Rebel by GDM is designed for the motorcycle rider who prefers a retro look. The idea behind the GDM Rebel helmet was to create something simple, yet striking with an aggressive appeal.
| | |
| --- | --- |
| Safety Rating: | DOT Certified |
| Sizes: | Small, Medium, Large, X-large, XX-large |
| Type: | Full Face |
| Outer shell: | Molded ABS |
| Inner shell: | Expanded polystyrene |
| Usage: | Motorcycle, Cruiser, Street Bike, ATV, UTV, Scooter, Off-road motorcycles and more |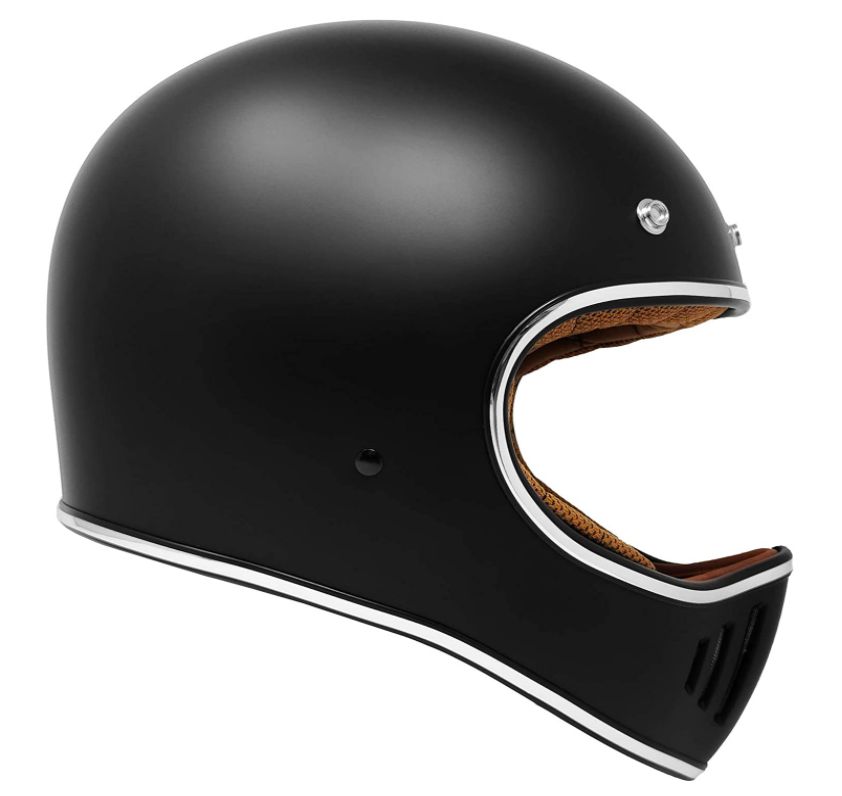 Get the best price here: GDM REBEL
---
2.) TORC T-50 3/4 Retro Open Face Motorcycle Helmet
Whether you're hitting the road for a day trip, touring the coast, or taking on a transcontinental journey, rely on the TORC T-50. Its 3/4-shell design and highly advanced materials set new standards in this category. The stylish shell is perfect for daily rides, while its innovative features make it perfect for all types of adventures. An extremely versatile helmet, it includes removable cheek pads and chin bar for when you want to open up to the world, and a full triple D-ring closure system with quick release chin strap when you want to wear a full-face shield or a pair of goggles.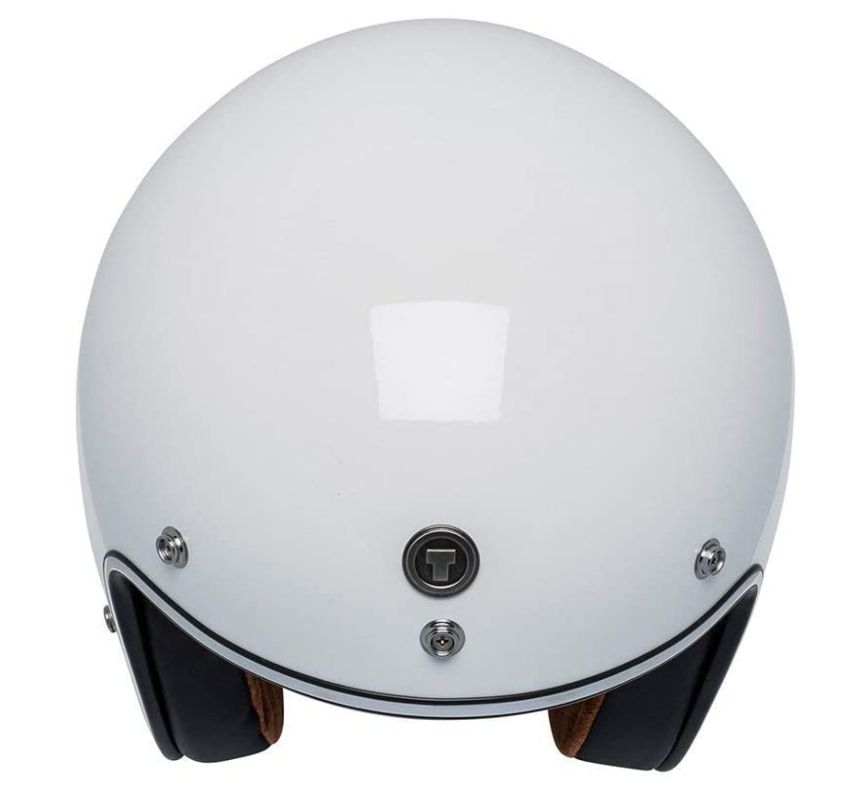 The TORC T-50 3/4 is designed to provide you with all the features you will ever need on a helmet. Designed and manufactured using only the finest materials and components, this helmet is made for motorcyclists who ride for fun, excitement and for life.
Get the best price here: TORC T-50 3/4 Retro Open Face Motorcycle Helmet
---
3.) TORC Unisex-Adult T3 Retro Classic Full-Face Motorcycle Helmet
The T3 retro is a DOT-approved, full-face helmet with a chin bar that features an exclusive skull design that's inspired by 70s BMX riding culture. The unisex helmet is available in small/medium and medium/large sizes and comes in 2 different shell sizes designed to fit the rider's head size.
Designed with a retro-style and finish that makes it ideal for everyday use, the T3 is ultra lightweight and features an internal drop down sun visor to protect your eyes while riding. A quick release visor for easy on/off as well as a top strap adjuster provides a customized fit.
Get the best price here: TORC Unisex-Adult T3 Retro Classic Full-Face Motorcycle Helmet
---
4.) TORC Unisex-Adult Open-face Style T50 Route 66 3/4 Helmet
Whether you're riding dirt bikes, street bikes, or four-wheelers, TORC's Unisex-Adult Open-Face Style Route 66 T50 3/4 Helmet is the ideal fit. It features an intermediate oval head shape, five button snap system, and three snap peak. The TORC T50 Route 66 helmet features top grade anti-microbial comfort padding in a variety of colors to match any racer's design preference. Specially formulated for comfort and moisture wicking properties that help keep operators cooler when operating equipment in extreme temperature conditions.
Its vintage styling is perfect for riders looking to add to the style of their motorcycle.
Get the best price here: TORC Unisex-Adult Open-face Style T50 Route 66 3/4 Helmet
---
5.) NEXX X.G200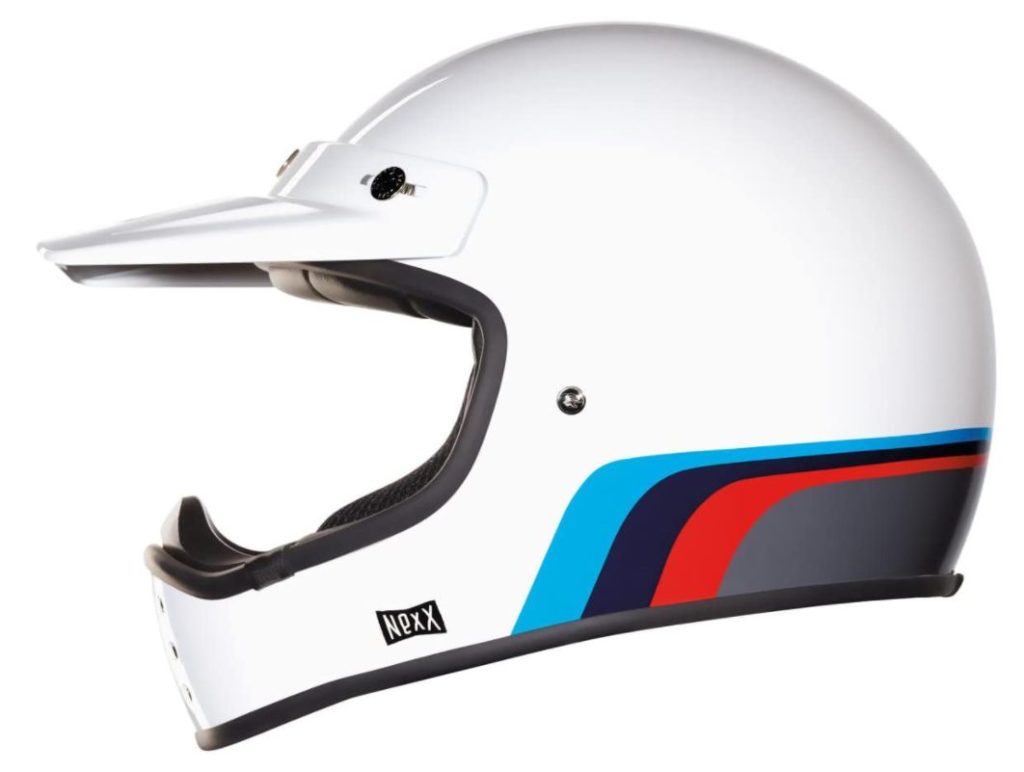 Tough and sporty, the X.G200 Retro Off-Road helmet is designed for riders seeking a unique style, exceptional safety features, and modern graphics that are sure to turn heads. The X-Matrix Shell construction combines the new matrix technology with a classic retro design. Thanks to the double D ring buckle and quick release chinstrap it offers an optimal fit and protection against deceleration in case of impact. The top air vents and extra chin ventilation keep your head cool on hot days while the soft anti-sweat and anti-allergic fabric inner lining assures that riding is always enjoyable.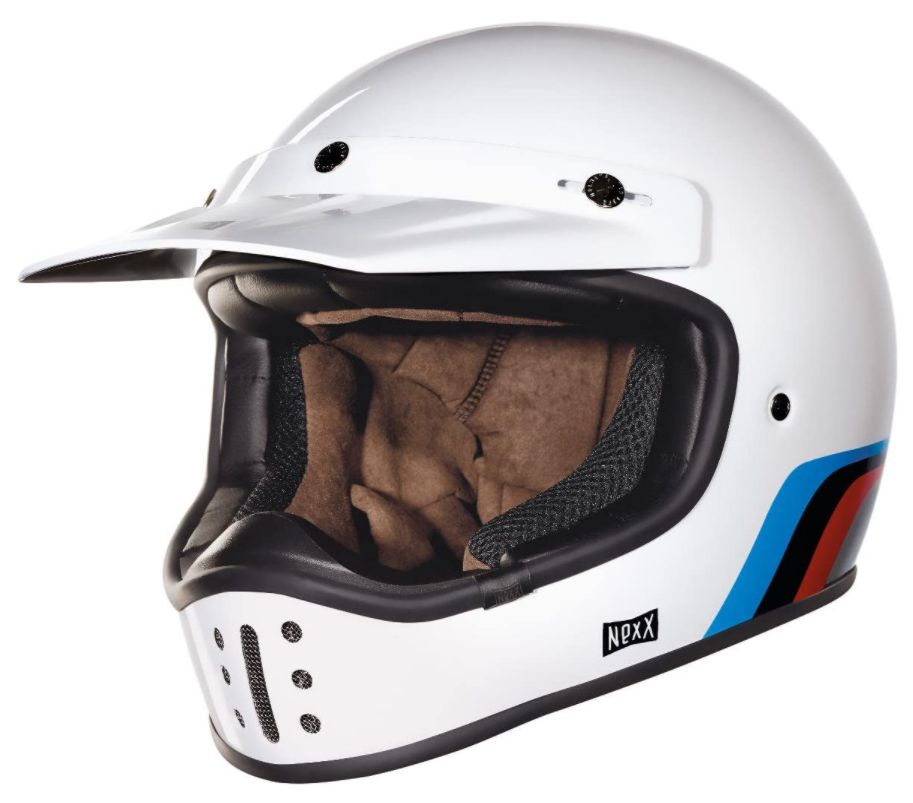 A new style helmet with a retro look and a new approach to safety. The X.G200 combines modern technology with the demands of the off-road rider.
Get the best price here: NEXX X.G200
---
6.) Biltwell Gringo
The Biltwell Gringo helmet is DOT and ECE certified. Accepts all Biltwell Bubble Shields for maximum customization. Is the first helmet to be produced using new in-house tooling and molds; a process that has allowed Biltwell to increase the quality of construction while slashing costs. Precision crafted from high-quality components, the Biltwell 1003 Shark Raw Carbon Helmet is designed, manufactured and assembled in the USA.
The Biltwell Gringo is constructed using lightweight, sturdy, 3/16″ polycarbonate and injected with foam for superior protection. Completely vented, the design is optimized to direct airflow over the rider's head, eliminating helmet lift at high speed.
Get the best price here: Biltwell Gringo
---
7.) TKer Vintage Motorcycle Helmet
A vintage look, a classic shape, and a full spectrum of color choices. The TKer helmet combines retro style with superior safety. The helmet has been designed to meet or exceed both DOT and ECE certification standards. This ensures you are receiving an effective product that will protect you from injury if involved in a motorcycle accident.
The high quality ABS plastic makes this helmet comfortable while also being extremely sturdy. The inner lining is breathable while also being completely padded for your comfort. This helmet features a double lens design which makes it not only stylish but safe as well.
Get the best price here: TKer Vintage Motorcycle Helmet
---
8.) TORC T5005SE24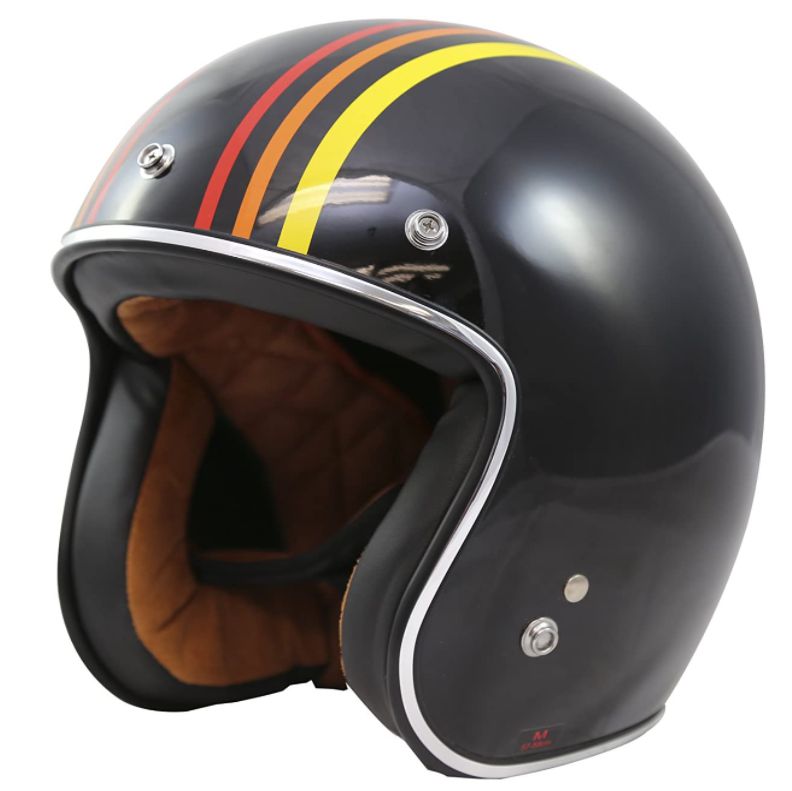 The TORC 5005 Open Face Helmet is a must have for any rider. The DOT certification gives you the safety and protection you need while riding, and the five button snap system allows you to take it on and off easily. With an ultra suede fabric inner comfort padding and removable cheek pads, it has a comfortable fit for all-day riding!
Designed for the rider who wants a lightweight helmet, yet full coverage.
Get the best price here: TORC T5005SE24
---
9.) Bell Bullitt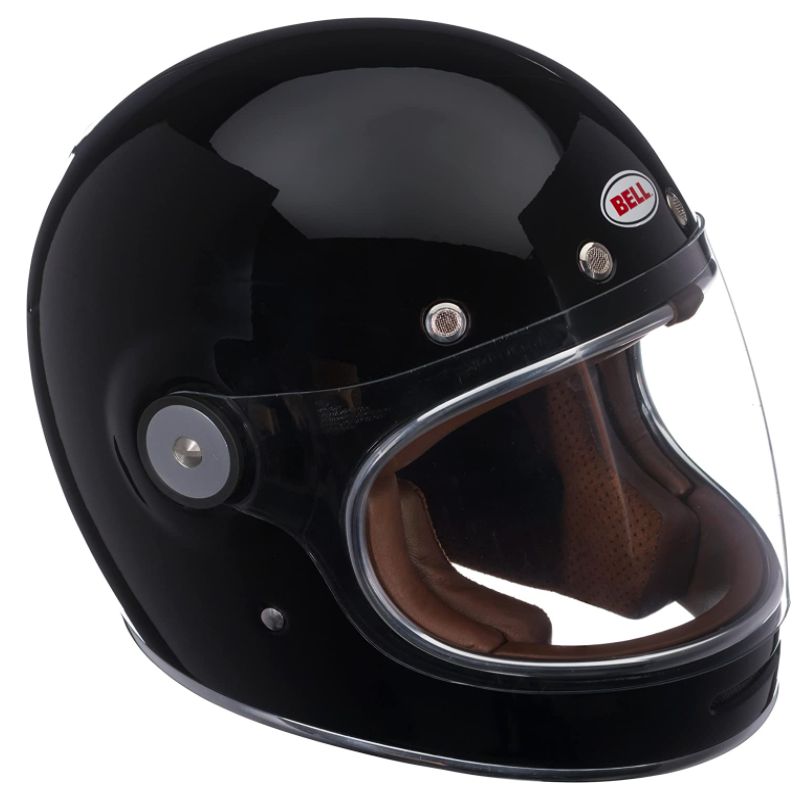 Design is a pivotal part of what makes a motorcycle helmet great. So for the Bullitt, Bell designed a simple, timeless and unmistakably unique shell. Combining the latest in lightweight, aerodynamic technology with hand-crafted style, the Bullitt is a true icon of motorcycling.
The Bullitt is inspired by the legendary Bell Star helmets of the '60s and '70s but with a modern design.
The composite fiber shell is lined with leather for durability and helps maintain anaerobic temperature levels inside the chamber, keeping you cool as you ride.
Get the best price here: Bell Bullitt
---
10.) SOXON NTNK N325
Retro helmet N325 is a classical helmet. It is good for people who like vintage. Has comfortable internal padding and the golden colored pad at the backside of the mannequin head, which reflects the speed of the motorcycle rider.
SOXON creates retro helmets with unique modern style and high performance. With a unique style that matches your personality and passion for riding, all SOXON helmets are hand made under close scrutiny to make sure each detail is perfect.
Get the best price here: SOXON NTNK N325
---